The 2022 Catapult Racing Season starts with our first TT to be sailed at Carsington SC in the beautiful setting of the Derbyshire Dales on the weekend of the 9-10 April.
For full details of the year's events calendar click here
Of course, there are many events still to come and plenty of opportunity to improve on your results from 2021 (2021 H/C results), (2021Scratch results) and to get on the top of the leader boards, so be sure to get out on the water and start climbing the ladder of success! See you Carsington.

2021 Season Roundup to follow soon
2020 SEASON ROUNDUP For a summary of the substantially shortened Catapult season, here 2019 SEASON ROUNDUP For a summary of another successful Catapult season, look here
TRAMPOLINE DECKS John Peperell can no longer make new trampoline decks, he can however take on deck repairs for CCA members. (Prices ex his home in Twickenham.) He can be contacted at johnpeperell83@gmail.com
Prices are as follows:-Renew 2x2mtr. bolt ropes - £50.00; Repair 2 x dagger board slots with new webbing -£40.00; Renew toestraps - £10.00; Other repairs on an add hoc basis. Member to pay postage bothe ways. John also has 4 unused grey bowboards @ £40.00 each.
NEW RUDDER STOCKS are now available from John Peperell. These are newly built to the same exacting standard as the originals with some minor modifications. The non standard parts are:-square tiller tube and 6mm bolt connectoer pin and wire ring. The connector bolt bracket can be adjusted as before to facilitate parallel rudders for port or starboard fitting. John is offering these at £90 per pair or £50 each (excluding P&P). Contact John for more details but hurry before they are all sold johnpeperell83@gmail.com
(Below: Northerns 2019 winner John Terry gets a fast start at Carsington.) (Photo CSC Safety Rib with thanks.)



SPARES AVAILABLE John Terry has updated the Association spares stocklist, seen here It was established hrough the generosity of past Catapult sailor Admiral Sir Robert Hill and previous Secretary John Peperell, to keep the fleet afloat in cases of breakage or damage. Guidelines on spares availablity are here

DIY CATAPULT HULLS! Germany-based Catapult owner Volker Lehleitner, faced with the challenges of getting new hulls, went ahead and made his own. He was able to get a job lot of Hypalon, and built the hulls to a high standard, as the photos here show. Volker's son has made this video of the boat successfully cruising in Bonn.

(Below: 2019 Jon Montgomery Travelling Trophy winner Gareth Ede at speed at Yorkshire Dales SC.)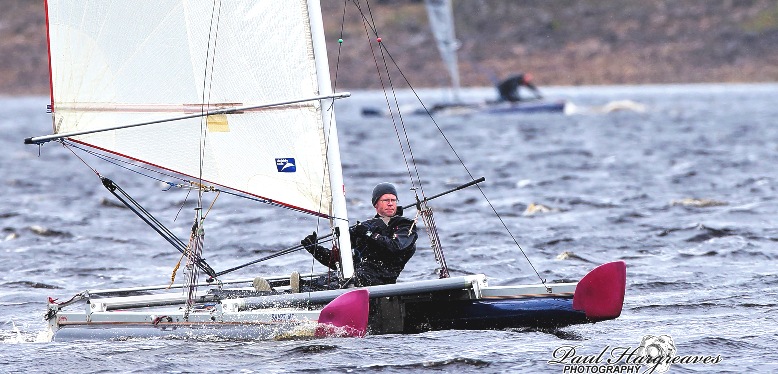 HYPALON TUBE REPAIRS Puncture? Leaky tubes? Seams coming unstuck? End caps need replacing? Paul Stubbins offers a high quality professional repair service. Paul, now working as a sole trader (with therefore no VAT to pay!), has many years experience working for RIB manufacturers, and offers a nationwide service from his base in Hull.

Have a word with Class Secretary, Stuart Ede, to see if he can arrange for pick up and delivery through the membership network to save on transport costs. Contact Paul at paul.sal@mail.com or on 07429 754392.

REPAIR ADVICE Syd Gage has added to his stream of practical advice and detailed instructions with a new article on DIY Puncture-free PU-foam-filled Tyres The article here shows what to buy, and his excellent photos and instructions (and personal setbacks) show how to change the steel roller bearings to nylon ones (more suitable for water immersion).

Many more advice articles are here, the latest on Repairing frame bolts beam repairs, mast buoyancy, and halyard options.





(Below: Syd Gage's camera mounting, picking up the opposition ahead as he concentrates on catching them.)

(Photo Paul Hargreaves with thanks.)
CATAPULT CRUISING Justin (below) uses Catapult's shroud adjustment to dip the mast and negotiate the New Cut bridge between the Waveney and Yare rivers on the Norfolk Broads: more ) Get in touch with Alastair (at alastairforrest@hotmail.com ) with cruising plans or reports to add to the Cruising write-ups (and see his recent tidal Thames cruise.)

Jon Montgomery: Designer of Catapult: 22nd February 1935 - 9th June 2009.

A tribute to Jon here.

It is with regret that we have to announce the death of our former Chair Alastair Forrest
you will find a tribute page here