2022 Catapult TT RUTLAND SC
The Catapult fleet returned to Rutland Sailing Club over the weekend of 2-3 July 2022 for the first time since the lockdown. This year the club had kindly offered to host the Catapults and invited them to join in with the Rutland Catamaran Saturday series and with club racing on the Sunday.
Unforunately on the Saturday the weather decided not to play ball and with gusts of over 30 mph recorded at the weather station on the water tower racing was abandoned for the day. In fact the weather station was invisible to the eye for a while due to the white out caused by the rain and wind.
Sunday dawned with a much better outlook with promissed winds for 9-12 mph all day. Two intrepid sailors set out to join the Rutland Sunday racing of a mixed fleet of dinghies, keelboats and cruisers.
Race 1
Despite the forecast the SW winds for the start of race 1 were, at the best, light and as always at Rutland very shifty and fickle. The race officer set a port biased line and as the fleet approached the line the winds dropped and swung left leaving many boats stranded waiting for the wind to fill in. John managed to cross the line and tack away onto port ahead of the struggling boats whilst Syd was trapped on starboard by the fleet and unable to tack to cross the line. As the wind picked up Syd managed to get clear of the start line and make his way up the trapizoid course. Beside the challenge of the shifty and changing winds the sizable mixed fleet created some interesting moments especailly at the rounding marks. Syd made up some of the distance lost at the start but not enough to catch John.
Race 2
Again the course was heavily port biased. John made a port tack start crossing ahead of an F1 cruiser. By this time the wind had picked up and both John and Syd were able to get some good speed. John was ahead but sailed into a hole whilst Syd was speeding along in some fine winds. As they rounded the final mark in what was to be a 1 lap race, Syd overtook John and crossed the line 2 seconds ahead takinig the win.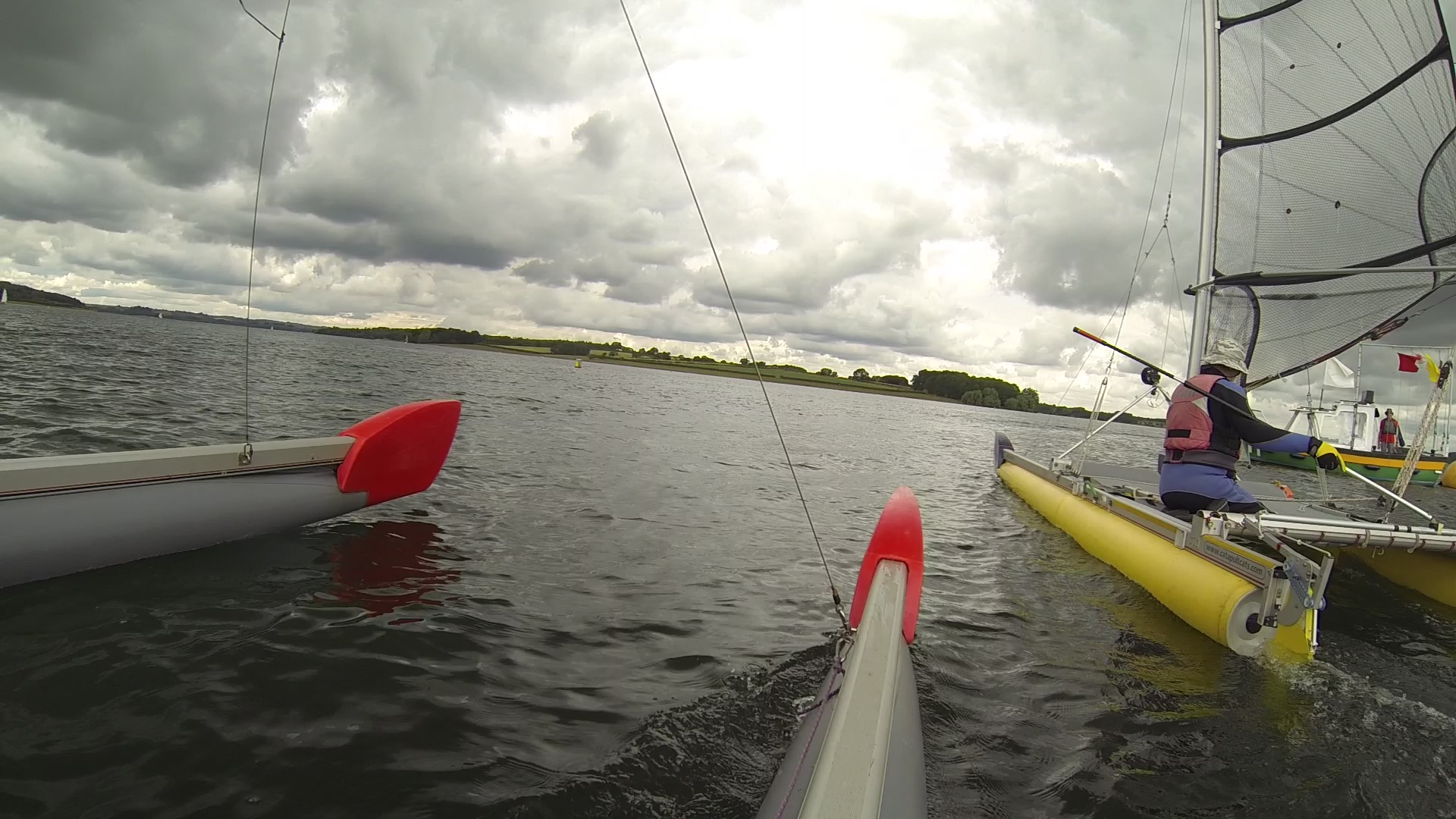 Syd squeezing ahead of John to take the finish in Race 2
Race 3
The wind had now filled in and the line had been reset. Both John and Syd got away with John using the extra wind to extend a good lead over Syd. The course was short and after 5 laps John crossed the line ahead of Syd after lapping all the dinghys.
RESULTS
Catapult 2022 TT series Rutland SC
Scratch Results
| | | | | | | | | |
| --- | --- | --- | --- | --- | --- | --- | --- | --- |
| Rank | Helm | SailNo | Rating | R1 | R2 | R3 | Total | Nett |
| 1 | John Terry | 533 | 810 | 1 | 2 | 1 | 4 | 4 |
| 2 | Syd Gage | 506 | 950 | 2 | 1 | 2 | 5 | 5 |
| 3 | Damien Cooney | 244 | 1110 | DNC | DNC | DNC | 12 | 12 |
Handicap Results
| | | | | | | | | |
| --- | --- | --- | --- | --- | --- | --- | --- | --- |
| Rank | Helm | SailNo | Rating | R1 | R2 | R3 | Total | Nett |
| 1 | Syd Gage | 506 | 950 | 1 | 1 | 1 | 3 | 3 |
| 2 | John Terry | 533 | 810 | 2 | 2 | 2 | 6 | 6 |
| 3 | Damien Cooney | 244 | 1110 | DNC | DNC | DNC | 12 | 12 |