Home Page
Results and Reports
Sailing Programme
Cruising
Tactics and Rules
The Boat
The 2019 racing programme returned for its real sea sailing at Bridlington for the Nationals on 25th-27th May, but fate intervened.

With the forecast of strong winds for the Sunday, the schedule was changed to fit three races into the Saturday afternoon, on the traditional Brid square courses. Ironically racing had to be abandoned after two races when the wind died away.

Race 1, in a light Force 2 had a tightly bunched start, with Damien Cooney pushing through at the committee boat end, undeterred by John Terry's shouts to head up (photo below!). Gareth Ede found himself at the back of the bunch and tried to tack off behind everybody but made a mess of it and watched as the fleet left him behind. Once he got going again, to start at the Committee Boat end in clear air, Gareth found himself pointing considerably higher than the rest of the fleet led by John.

(Below: Start of Race 1 in gentle breezes: Damien (244) listens while John (grey hulls) explains that there is no room to windward of him.) (All photos Syd Gage's on-board camera.)


By the time the fleet reached on a lay line for the mark, Gareth had not only caught up but was a long way to windward, staying well ahead for the rest of the two lap race. George Evans rounded next, with John Terry hard on his heels. Chris Phillips misjudged the strength of the tide and was swept onto the mark dropping him to the back of the fleet , an omen for the next lap.


On lap 2 Gareth, George and John could round the windward mark with the dying breeze, but the rest of the fleet struggled as the wind almost switched off, and the strong tide required several attempts by Syd Gage and Stuart Ede to get round the mark, while Mike Gough sailed well past it to be sure of keeping out of trouble.

Gareth finished so far ahead of the fleet that despite his severe personal handicap he was able to claim 4th on handicap on top of his line honours. Meanwhile Johnís dogged pursuit of George finally paid off in the last 100m when he pipped George for second place. Mike took fourth with a comfortable gap over the rest of the fleet. Damien took the handicap win in this race.


(Right: More evidence: Chris explains that he is sure he was nowhere near the mark.)

John and Stuart arrived at the line early for the start of Race 2, sailed in a Force 1 breeze. Stuart managed to shut John out at the committee boat end before having to sail down the line until the gun went. John had to circle around and in doing so got entangled in his mainsheet delaying his start. This opened the door for Syd and Gareth to get a near perfect start, and Gareth was again able to point high to reach the windward mark first, with Syd hanging onto his coattails with his Sobstad sail, and Chris not far behind. John had come through into fourth place.

With the wind dying, progress around the course was agonisingly slow, and by the time the fleet was on the run the Race Officer shortened the course to one lap. The bulk of the fleet had closed up, but the order remained largely the same, except John was able to get past Chris to claim third place behind Gareth and Syd.

(Below: Start, Race 2, as the wind dies; event winner Gareth Ede (near camera) readying to go for the line)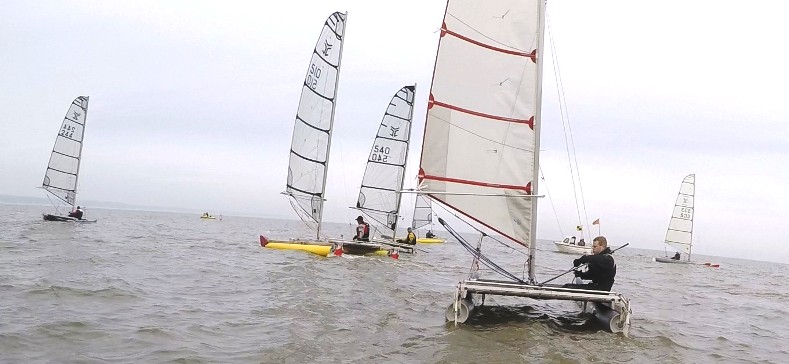 Sydís second in the last race catapulted him into 3rd place overall on 8 points, and he nudged George Evans into 4th place on count-back, while Gareth claimed the event win with John Terry as runner-up on 5 points.


The personal handicap result was tight with only three points separating the top 6 sailors. Syd topped the handicap table with 6 points, and George, Gareth and Mike Gough, in that order, had to be separated by tie breaks on 7 points
RESULTS


| Rank | Helm | R1 | R2 | Total |
| --- | --- | --- | --- | --- |
| 1st | Gareth Ede | 1 | 1 | 2 |
| 2nd | John Terry | 2 | 3 | 5 |
| 3rd | Syd Gage | 6 | 2 | 8 |
| 4th | George Evans | 3 | 5 | 8 |
| 5th | Mike Gough | 4 | 6 | 10 |
| 6th | Chris Phillips | 7 | 4 | 11 |
| 7th | Stuart Ede | 5 | 7 | 12 |
| 8th | Damien Cooney | 8 | 8 | 16 |
HANDICAP RESULTS
| Rank | Helm | R1 | R2 | Total |
| --- | --- | --- | --- | --- |
| 1st | Syd Gage | 5 | 1 | 6 |
| 2nd | George Evans | 2 | 5 | 7 |
| 3rd | Gareth Ede | 4 | 3 | 7 |
| 4th | Mike Gough | 3 | 4 | 7 |
| 5th | Chris Phillips | 6 | 2 | 8 |
| 6th | Damien Cooney | 1 | 8 | 9 |
| 7th | John Terry | 7 | 6 | 13 |
| 8th | Stuart Ede | 8 | 7 | 15 |