Home Page
Results and Reports
Sailing Programme
Cruising
Tactics and Rules
The Boat


The Pairs Race ended the first day, two laps on the same course into the SW breeze. The race traditionally links new or inexperienced helms with experienced sailors able to give advice and encouragement around the course, since the key requirement is that the learner crosses the line ahead of the guide. Stuartís pairings (from Leaderboard positions) revealed that the standard of the racing has improved so much over the last years that for many of the pairs, either helm might finish first in a straight race.

(Below: Alex Montgomery, right, encourages partner Nigel, left.)

Paul Ellis got away well chased by Alastair (both being the learner.) The fleet bunched down the long downwind leg, with the boats gybing across and back in the shifting breeze, and John Terry seized the opportunity to gybe onto starboard and push Nigel further and further away from the course and down the fleet.

Effective as this was, the flurry in the pack gave a further opening for Paul and Alastair to stretch out to the finish in that order, with Syd pushing up to windward on the beat for third. Behind, Gareth Ede boosted Damien's upwind and down-wind speed to good effect for the rest of the event.

PAIRS RESULTS

1st Paul Ellis and George Evans 1 + 4 5 points

2nd Syd Gage and John Terry 3 + 5 8

3rd Alastair Forrest and John Peperell 2 + 8 10

4th Nigel Harrison and Alex Montgomery 6 + 7 13

5th Damien Cooney and Gareth Ede 9 + 10 19

RELAY RACE
The Relay Race wound up the Sunday morning events, on a short course, a tight reach to a turning mark and broad reach back for the changeover.

Alex and George got off well, moving away from Nigel chasing--so that by the time Nigel arrived at the mark, he could call out to them to come back, after both of them went round to starboard, ignoring the sailing instructions. As they unwound, Nigel swept in with a good lead, but the Terriers managed a confused changeover (see picture below) so the Syd lagged behind as Paul and Alastair set off smoothly.

(Below: Yorkshire Terriers Syd and Nigel agree their next project will be a piss-up in a brewery)




(Below: Good relay technique: Alastair, 524, hands to Chris, 297, and Paul 507 hands to John T. 533, while Yorkshire Terrier Stuart in the middle wishes they had chosen him for their teams.)



After another good changeover, John T stretched away from Chris, gaining and turning ahead, lying forward to concentrate on the run back to victory. Chris's ever present sportsmanship meant that he did not delay too long before calling to John that he had kicked his relay ball off his trampoline preparing for maximum speed, and John's recovery (see picture below) gave Chris a comfortable lead to the finish and appropriate celebrations (picture at bottom.
)

1st Hampton Hounds Alex, Alastair, Chris

2nd Bala Bulldogs George, Paul, John T

3rd Yorkshire Terriers Nigel, Syd, Stuart

(Below: bad relay technique: John T regains the baton.)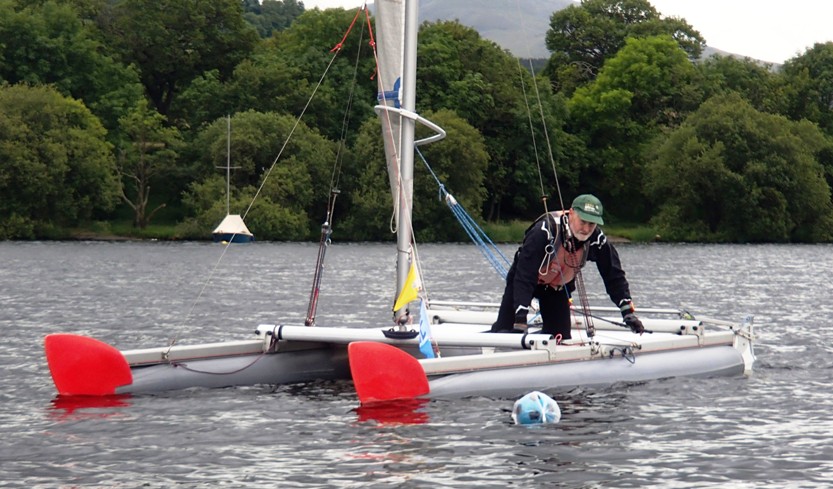 THE TEAMS RACE

Two teams faced off for the final Bala Gala event. George got a storming start for the Southerners, climbing fast to windward from the starboard pin, to lead at the top mark. Alastair pulled up in the long downwind leg, staying on the right-hand side down the lake for the breeze, to follow George around onto the reach.

John T just behind saw an opportunity for some true team racing, and hauled up to lee of Alastair, and then luffed him higher and higher above the next mark, allowing Gareth and Stuart through below them.

George stretched out in the rising wind, chased hard by Gareth and John T on trapeze, and was just unable to hold Gareth off at the line.

1st Northerners Gareth (1st) John T (3rd) Stuart (4th) Syd (6th) 14 points

2nd Southerners George (2nd) Alastair (5th) Chris (7th) Paul (8th) 22 points


(Below: Chris celebrates the Relay victory by lofting the ball into the crowd, like Andy Murray...er...like Stephen Gerrard...er...like Alastair Cook...er... like Chris Robshaw.....er......) (Photos Bala CC Rescue Rib with thanks)