THE RACES AT BASS, MAY BANK HOLIDAY.

A good fleet of 12 boats (including new member Paul Cundy) came to Bass, for great racing in S to SSE breezes, with a mixture of conditions and courses. As Saturday and Sunday each unfolded, the wind picked up, eventually with force five-six gusts slamming the boats and at other times relative lulls.

Big shifts gave unpredictable lifts upwind, and riding a gust downwind could give a big gain over the boats ahead.

As always at Bass, the Committee boat set interesting complex courses (with with five buoys for the first race and six for the second) providing a guide boat to lead.

For

Race 1 t

he figure-8 course (se

tting two upwind legs and dog-leg downwind legs over three laps) made for a long first race as the gusts built.

A tangle at the first upwind mark disrupted the leading pack, as a local dinghy went over, forcing John Terry on port to tack away, before hitting Paul Ellis and then the mark, allowing Gareth Ede and George Evans to get ahead as they came in to the mark from clear water on starboard. Gareth stretched out to hold the lead to the finish

.

(Above: John Terry chases George Evans after the gybe mark, Saturday.) (All photos Bass SC Rescue Rib with thanks)


John T fired up from his mistakes climbed rapidly behind the pack with his upwind speed trapezing, to close on George, who held out for second.

Paul, the other boat trapezing, struggled as the gusts built through the race, at times riding the windward hull high above the water and slamming back.

John's chapter of accidents continued, riding over a gybe mark and finally fouling Stuart Ede near the line so that he conscientiously withdrew after campaigning a very long race.

Stuart came through the fleet to take third, with Alastair Forrest fourth from Paul, with John Peperell closing up in sixth .

Race 2 followed back to back in increasing wind, with the fleet reduced after the battering of the long opener. John T led from the start stretching out on trapeze, drawing great speed from the gusts when everyone else staggered.

Gareth chased, but could not close or pass, while George steadily wore down Alastair's advantage from after his good start to take him. Stuart had no gain from a late port start, gradually recovering after crossing behind the fleet, while

Syd Gage, joining the fleet at the end of 2013, took sixth.



Race 3 on Sunday morning brought SSE breeze under cloud, the strength again building gradually. Again Gareth and John T could trapeze,

moving away able to attack the gusts. John T led for most of the race, with Gareth getting past briefly a couple of times only to be caught again. Behind, Paul playing the lighter three-four breeze moved steadily to a clear third, while the chasing pack of Nigel Harrison (back from a tiller failure) George and Alastair saw George emerge to gain the fourth.
For

Race 4 after lunch, the breeze picked up, with lulls and fierce gusts.

The complex course, including fast reaches and flat runs made bearing away in a powerful gust nerve-racking. Paul's capsize early in the first beat took him out, and John T led again very closely pursued by Gareth



On the 3rd lap, John narrowly avoided a pitch-pole as a gust hit, and Gareth had to sharply luff up to avoid running into his stern as John's bows dug in. John recovered to keep the lead round the mark. As they battled on, Gareth made it past John briefly but couldn't hold the lead on the next beat, struggling in the strength of the gusts.


Stuart held on for third, and behind, Alastair, chasing Nigel and George, saw Nigel go in in a gust. A lap later, on the flat run in a lull, George eased forward to maximise speed, to be caught by a ferocious gust, dipping the bows before he could scramble back. The pitch-pole turned into a long recovery, taking him out for the afternoon. Nigel did his usual prompt recovery to come in fifth.

(Right: John Peperell whipping along, Race 1)
In
Race 5, following back-to-back, Stuart took a good lead by starting at the port end on starboard, but John Terry pushed hard upwind to take the lead (chased by the group of Gareth Stuart and Alastair.) Despite the guide boat, John rounded mark 3 in the wrong direction and was half way up the next leg before he heard Stuart's shouts. Gareth and Alastair started the next beat together closely followed by Stuart. Alastair and Stuart chose to sail towards the centre of the sailing area before tacking across towards the western shore. Gareth opted to tack across towards the shore first and then follow the shore which paid off.

As the gusts became more ferocious, Gareth struggled to hold the boat down on the trapeze so resorted to hiking the boat and spilling wind on the beats. Stuart was caught by a gust hitting as he prepared the gybe, pitch-poling him out of the race. Meanwhile, with three survivors, John T started to reel in in the gap, catching Alastair before the finish, at a speed that would have caught Gareth if the race had been a lap longer.

(Below: Syd Gage going smoothly.)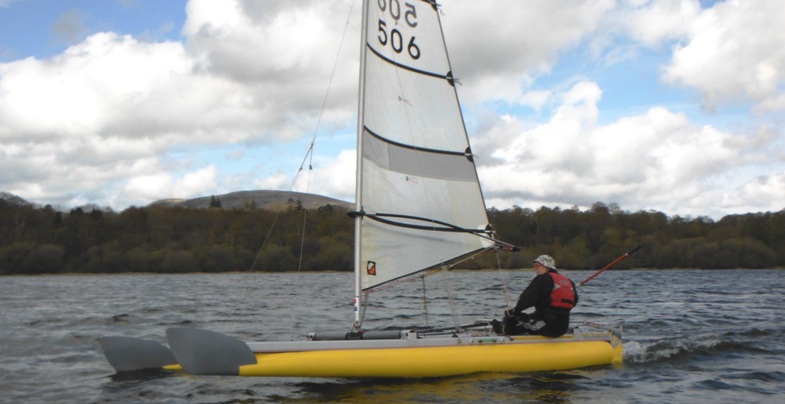 Monda
y brought light SSE winds and club set a dramatic new course for Race 6, one lap to the end of the lake, with a long beat SE and a zig-zag run back. Paul caught Alastair after the start, and John P pulled up--these three chased by George built a half-mile lead tacking down the eastern shore---surely unassailable? Far behind the rest decided to tack to the opposite shore---the centre/western side of the lake proved to be the better side and Gareth picked up several lifting gusts. John T, who was mid fleet, made his way across to join Gareth on the western side of the lake where turning mark 14 was. George and then Paul went across and were rewarded, while Alastair and John held on to where the breeze (logically) would come up beyond the hills, wallowing and watching themselves go from first to last in the fleet.

Gareth rounded first carrying momentum through a wind hole which delayed John. Their weekend-long battle played out to the end, and down the zig-zag series of reaches/runs, John T closed the gap, then fell back, then for a second time caught back up as a gust filled in from behind. Entering the bay by the sailing club John and Gareth were only a boat length apart. At this point a gust hit. Gareth reacted quickly, sheeting in onto a close reach, and surging ahead with the gust on one hull, holding the resulting space to the line. Behind, George gained a further third, ahead of Paul, while Stan Tobin, enjoying manageable conditions came in sixth, and newcomer Paul Cundy took seventh.

The front-two battle was decided for Gareth by count-back, a true reflection of the closeness of the competition between the trapeze flyers through the event.

(Writeup: Alastair Forrest and Gareth Ede.)


(above: Gareth speeds upwind to a first win on Saturday)
RESULTS


| | | | | | | | | | | | |
| --- | --- | --- | --- | --- | --- | --- | --- | --- | --- | --- | --- |
| 1st | 91 | Gareth Ede | Yorkshire Dales SC | 1.0 | (2.0) | 2.0 | 2.0 | 1.0 | 1.0 | 9.0 | 7.0 |
| 2nd | 533 | John Terry | Rutland SC | (RAF 13.0) | 1.0 | 1.0 | 1.0 | 2.0 | 2.0 | 20.0 | 7.0 |
| 3rd | 524 | Alastair Forrest | Catapult Assoc | 4.0 | 4.0 | 5.0 | 4.0 | 3.0 | (8.0) | 28.0 | 20.0 |
| 4th | 531 | Stuart Ede | Yorkshire Dales SC | 3.0 | 5.0 | 6.0 | 3.0 | (DNF 13.0) | 4.0 | 34.0 | 21.0 |
| 5th | 510 | George Evans | Bala Cat Club | 2.0 | 3.0 | 4.0 | (DNF 13.0) | DNC 13.0 | 3.0 | 38.0 | 25.0 |
| 6th | 507 | Paul Ellis | Marconi SC | 5.0 | (DNC 13.0) | 3.0 | DNC 13.0 | DNC 13.0 | 5.0 | 52.0 | 39.0 |
| 7th | 506 | Syd Gage | Royal Yorkshitre YC | 7.0 | 6.0 | (DNF 13.0) | 6.0 | DNC 13.0 | 10.0 | 55.0 | 42.0 |
| 8th | 540 | John Peperell | Aquarius SC | 6.0 | (DNC 13.0) | 8.0 | DNC 13.0 | DNC 13.0 | 9.0 | 62.0 | 49.0 |
| 9th | 522 | Nigel Harrison | Catapult Assoc | (DNC 13.0) | DNC 13.0 | 7.0 | 5.0 | DNF 13.0 | DNC 13.0 | 64.0 | 51.0 |
| 10th | 313 | Paul Cundy | Rutland SC | (DNC 13.0) | 7.0 | DNF 13.0 | DNC 13.0 | DNC 13.0 | 7.0 | 66.0 | 53.0 |
| 11th | 523 | Stan Tobin | | (DNC 13.0) | DNC 13.0 | DNC 13.0 | DNC 13.0 | DNC 13.0 | 6.0 | 71.0 | 58.0 |
| 12th | 244 | David Cooney | Bala Cat Club | 8.0 | (DNF 13.0) | DNC 13.0 | DNC 13.0 | DNC 13.0 | DNC 13.0 | 73.0 | 60.0 |
(RAF= Retired after finishing, DNF= Did not Finish, DNC= Did not Compete.)
(Below: John Terry drives out below Alastair in front of Skiddaw)
(Photo: Bass SC Rescue Rib.)
Home Page
Sailing Catapult
Rigging and Tuning
Sailing Programme