2017 SAILING PROGRAMME
Stuart is powering ahead with the
2017 Travelling Trophy programme
, and has confirmed some favourite venues:
Rutland
to open the season on 8th-9th April, the May Bank Holiday again at
Bassenthwaite,
Yorkshire Dales
7th-8th October
,
and finishing the season again at the
Grafham Cat Open
in October.
We will be going back to
Bala
,
Carsington
, and the real sea sailing at
Bridlington
(dates to be confirmed)


END OF SEASON LUNCH AND PRIZEGIVING



Catapult returned to the Noel Inn, Whitwell for another successful prize-giving lunch in November. Syd Gage's careful compilation

of videos across the TT events gave fascinating or embarrassing reminders of a successful season (with total TT attendance up, and five helms scoring a TT event win.)





Gareth Ede's win in the final TT event at Grafham (below) confirmed his firm grip on the 2016

TT Leaderboard

to comfortably win the 2016 Jon Montgomery Trophy.



(Right: Gareth recieves the TT Trophy from Chair Alastair Forrest.)



Gareth also gained victory at the Catapult Nationals at Bala in July.



John Terry's good results after missing early events let him just overtake George Evans for second place, and John also held on to the Northern Trophy for 2017.
2016 SAILING PROGRAMME: FINAL EVENTS FOR 2016:
.

Grafham hosted the final 2016 TT event again, with Catapults joining the Cat Open fleets (and Catapult had the third biggest fleet turnout, after the Sprint 15s and A Class.) The trapezoid course suiting Catapult, and light-moderate NE breezes (with some bursts of bright sunshine) made it a great final event.

Alex Montgomery scored two wins on Saturday but had to leave for work comittments, and Gareth Ede consolidated the event win ahead of John Terry.(Report and pictures) (more Grafham photos)

Before that, Yorkshire Dales SC hosted the penultimate TT October 8th-9th, on Grimworth Reservoir, high on the Yorkshire moors. Varying NE breezes gave a good fleet a bracing workout, with Gareth Ede pushed by John Terry (photo below) and George Evans. (Report and photos)

Chris Phillips' boat speed made him the Handicap winner in every race, but Alastair Forrest with a generous age allowance (both boat and helm) clung on to the Red Pennant on the Handicap Leaderboard to win the Handicap trophy for 2016

(Below: top mark action at YDSC, as Gareth Ede (event and 2016 TT winner, right) and John Terry (TT Runner-up) tack for the mark.) (Photo: Paul Hargreaves Photography, with thanks)


Jon Montgomery: Designer of Catapult: 22nd February 1935 - 9th June 2009.


A tribute to Jon here
CATAPULT
IN ACTION: VIDEOS


E
asy handling at speed in a fresh Bala breeze
here
and
here
Videos here and here and here (and on board racing at Bewl, and cruising the Solent
here )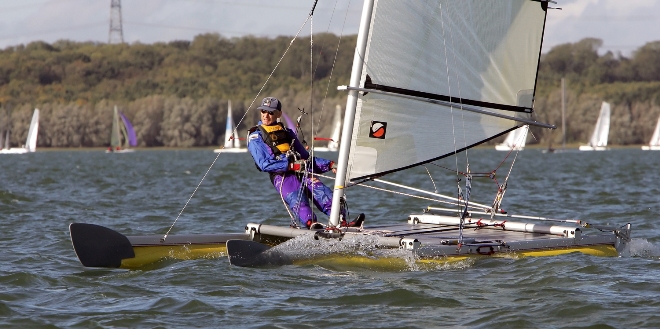 SPARES AVAILABLE TO MEMBERS

Through the generosity of past Catapult sailor Admiral Sir Robert Hill and previous Secretary John Peperell, we have a good supply of spares to keep the fleet afloat after breakage or damage.

John Terry manages the store: list of spares here and guidelines on availablity here

DVDs FROM CATAPULT EVENTS:

Syd Gage has worked from his and George's on-board cameras, to produce great videos of Catapult action, including a season roundup.

(Below: Syds on-board camera records the boats ahead while he focusses on catching them, Yorkshire Dales.)
REPAIR ADVICE

Syd Gage has added a new article on DIY puncture-free PU-foam-filled tyres. It shows what to buy, and excellent photos and instructions (and personal setbacks) show how to change the steel bearings to nylon ones (more suitable for water immersion).


More are here, the latest on repairing frame bolts , beam repairs, mast buoyancy, and halyard options.


CATAPULT CRUISING

Get in touch with Alastair ( alastairforrest@hotmail.com ) with cruising plans or reports for the Cruising write-ups.
(Below: Justin uses Catapult's shroud adjustment to dip the mast and negotiate the New Cut bridge between the Waveney and Yare rivers:)