This was a grab at the remains of the Indian Summer, and Windguru promised sunshine (for the morning at least) and southwesterlies freshening with the day. Stokes Bay west of Gosport offers easy rigging and beach launching, and from there a long tight-hauled starboard leg took Catapult out across the Solent to the Isle of Wight (meeting the steep Solent chop kicked up in even a moderate breeze) and to the inlet of Wootton Creek.

After the Portsmouth ferry berth at its mouth, Wootton Creek turns through a dog-leg into a true inlet, running into the land, and still a proper mixture, on the water and alongside it, not yet gentrified and not packed with moored fibreglass. After the bluffs at the entrance there was enough breeze funnelling down for short tacking up the inlet with the tide, with benefit of the Classic rig's quick tacking.

Below: Looking down from the top of the creek at high tide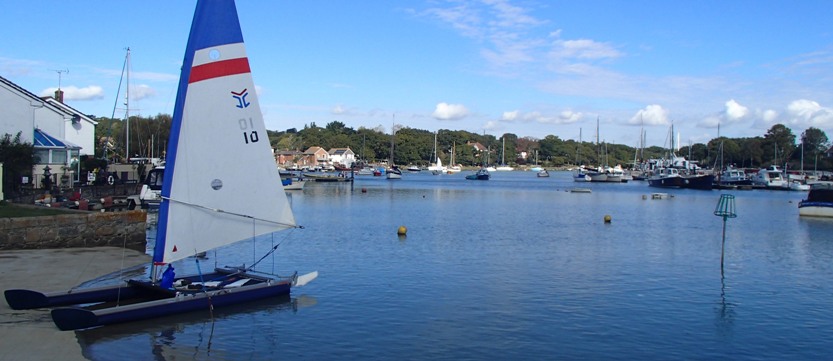 Above: A nice mixture on Wootton Creek waterside

Below: More boats out on the water, the Education and Adventure Centre racing in Dragon boats.



Running back down the Creek was smooth and easy, then a lurching broad reach back across the Solent, following the ferries into Portsmouth Harbour, flapping in the dead air in the narrow entrance (with the small craft channel hard against buildings) but drifting in with the last of the tide assistance, out into the wide harbour. An easy plan was reaching fast through fleet upon fleet of moored yachts up into the western arm of the harbour, until a last short beat up the narrow channel into Fareham at high tide and a quick picnic lunch.

(Below: moored at Fareham, the top of the harbour, beside the old slipway.)




The broad reach back down into the harbour was fast as the cloud and breeze built up, with the tide high enough to give close access to the shore, and the whole of the wide water. (At low tide, shingle banks rear up, restricting sailing to channels amongst them.)

(Below: running past Portchester Castle with its Norman keep and little medieval church, built low, so that the watchers on the keep could still look over the Roman walls.)




The giant Bilbao-Portsmouth ferry had followed me in to the harbour, and was clearly heading out again after lunch something to be avoided, but Catapult with plenty of breeze could scoot away.

(Below: sharing the harbour with the ferry leaving, and HMS Illustrious, back in Portsmouth for the last time.)



With the ferry disappearing, the way was open to nip across to HMS Warrior (uniquely advanced in 1860) and the little fishing harbour still in the heart of Portsmouth, landing on the smooth stones of the hard (presumably 300-400 years old) for a better view with Catapult (uniquely advanced in 1980) sitting beside.
(Photo below.)


As expected, leaving the harbour was quick on the falling tide, to meet the payback for the quick trip downwind to
Portsmouth, beating back in steep seas, until able to round Fort Gilkicker on the point, and pay off a little onto a lurching tight reach back to Stokes Bay, a satisfying six-hour round trip.

Alastair Forrest